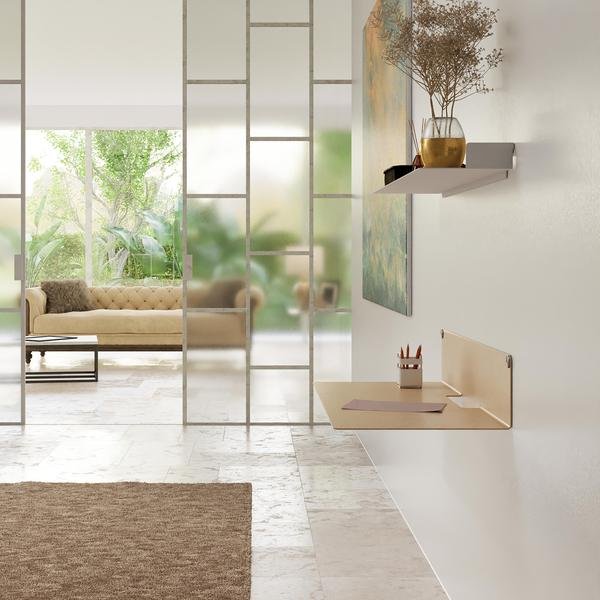 Smart Desk
santomarodesignstore.com
350

€
♦ Can't find what you're looking for? Would you like to find out more? Chat with us or email us to info@santomarodesign.com ♦ PLEASE, NOTE THAT MAGNETIC BUTTON SCREWS ARE NOT INCLUDED. CHOOSE THEM HERE.
COLOUR CODE: WHITE Ral 9010; ANTHRACITE Ral 7016; CASHMERE 16-1103 TPG; POWDER PINK C2.06.68; SILK NCS-S 2005 Y40R; WOODLAND NCS-S 7010 G50Y
RAL CUSTOMIZED COLOR: choose your Ral code here: RAL1 or RAL2 or RAL3
Attention please! These charts are to be used as a guide only! Colors May Appear Slightly Different
Measurements 70 x 48 cm / 110 x 48 cm
Materials steel, Box extra solid painted wood
Magnetic Button Screws ø 35 NON INCLUDED to choose separately HERE n. 2 ø 35 magnetic button screws
Package contents Desk without magnetic button screws, extra wood box, Technical datasheet
CUSTOMIZED COLOR Write your Ral customized color in the note of your order and you can receive a customized color desk! The delivered finishing is always matt. To request a shiny finishing color, please, contact our customer service at: customerservice@santomarodesign.com
Minimal and soft style, thought to decorate spaces where it's important to give functionality to every small corner and where details make the difference.
You can choose among three main models, designed to fulfill various space requirements, but each one of these makes for a great hanging desk in every room of your house and can even become your best friend when you're in smart working. You can also select their tint from our catalog's neutral colors or personalize it with great freedom.
But there's a further optional facility: an underlying solid wood box may complete the desk giving you the possibility to store books or other objects and making It a product of great functionality as well as outstanding aesthetic value.
Don't forget to choose the button screws d35 mm to match with the desk: they will complete the perfect mood for your room. You can find them here
All the products of Santomaro Collection are designed and totally made in Italy.
If I can't find the colors I wish, could I request custom products?
Yes, of course, by mailing to: info@santomarodesign.com. We can make a custom production for you!
How do I install it?
You have to mark the installation points on the wall, place the desk in a horizontal position using a level, then drill, insert the wall plugs and finally fix the desk with the magnetic button screws.
How many screws do I need for the desk?
You need n. 2 Magnetic Button screws d35 mm for each desk. Also you can find n. 2 / n. 3 secondary screws in your D.I.Y. box, to fix the desk in the lower hidden side.