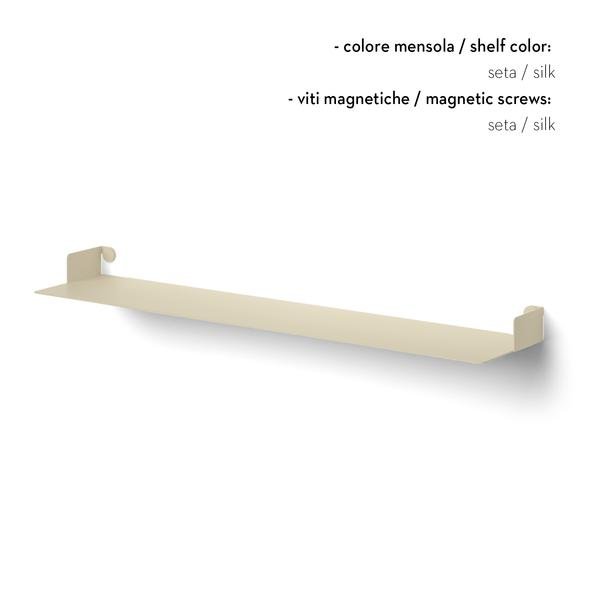 Line_120
santomarodesignstore.com
137

€
♦ Can't find what you're looking for? Would you like to find out more? Chat with us or email us to info@santomarodesign.com ♦ PLEASE, NOTE THAT MAGNETIC BUTTON SCREWS ARE NOT INCLUDED. CHOOSE THEM HERE.
COLOUR CODE: WHITE Ral 9010; ANTHRACITE Ral 7016; CASHMERE 16-1103 TPG; POWDER PINK C2.06.68; SILK NCS-S 2005 Y40R; WOODLAND NCS-S 7010 G50Y; BLACK Ral 9004
RAL CUSTOMIZED COLOR: choose your Ral code here: RAL1 or RAL2 or RAL3
Attention please! These charts are to be used as a guide only! Colors May Appear Slightly Different
Measurements 120 x 25 cm, H 7 cm. Weight 10 Kg
Materials steel
Magnetic Button Screws ø 35 NON INCLUDED to choose separately HERE n. 2 ø 35 magnetic button screws
Capacity 20 Kg
Package contents Line shelf without magnetic button screws, Technical datasheet
CUSTOMIZED SHELF COLOR Write your Ral customized shelf color in the note of your order and you can receive a customized color slide! The delivered finishing is always matt. To request a shiny finishing color, please, contact our customer service at: customerservice@santomarodesign.com
A linear, clean, minimal style is the distinctive signature of this shelf model.
The lower reinforcement flaps allow you to use Line shelf for all purposes, thas furnishing fitted walls, but characterized by a light and pure design.
Line shelf has multiple composition possibilities, given by the alternation of measurements and colors.
The installation is quick and simple due to the new Magnetic Button Screws, that give also aesthetic value to the shelf, allowing an easy and fast wall mounting.
Don't forget to choose the button screws d35 mm to match with Line shelf: they will complete the perfect mood for your room. You can find them here
All the products of Santomaro Collection are designed and totally made in Italy.
If I can't find the colors I wish, could I request custom products?
Yes, of course, by mailing to: info@santomarodesign.com. We can make a custom production for you!
How do I install it?
You have to mark the installation points on the wall, place the shelf in a horizontal position using a level, then drill, insert the wall plugs and finally fix the shelf with the magnetic button screws.